Get Free Smart Scale & Find Your Right Way To Calibrate With One-Year Metabolic Reset Virtual Program - Join Today!
Withings Sleep Diary is a new sleep diary feature of the eponymous brand's sleep tracking mat. Withings hopes it will help users better understand sleep data and make it easier to share this information with doctors.
Sleep Diary works with Sleep Analyzer
Withings Sleep Diary works in combination with the Withings Sleep Analyzer Mat. It sits under your mattress and uses automatically recorded sleep data with behavioral analysis. According to Withings, it is based on benchmark medical sleep questionnaires like the Epworth Sleepiness Scale and the STOP-Bang Questionnaire.
With this information, it can generate a dashboard like the one below. This allows data to be tracked over time. Also, it can also be shared in PDF format. Withings hopes it will help identify and treat sleep disorders by enabling the user and healthcare professional to better understand the data captured by Withings' device.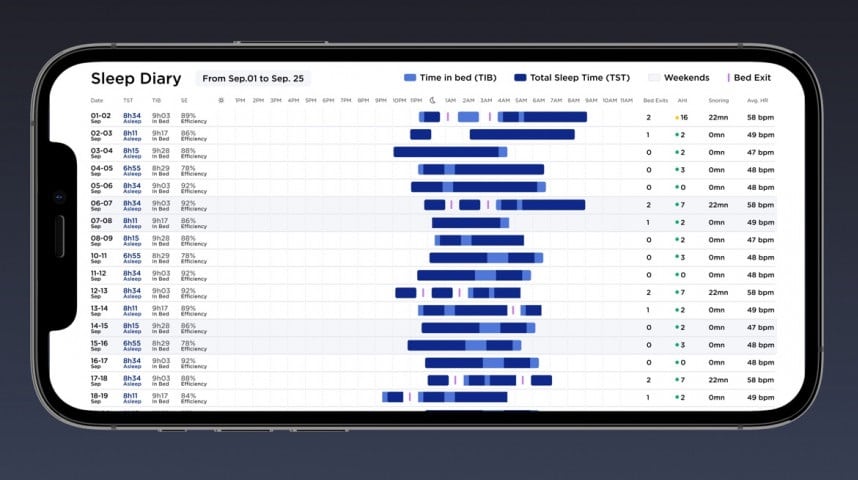 As we mentioned, this is a new feature that is currently only available to Withings Sleep owners. We asked if this would be a feature rolling out to its hybrid smartwatches like the Withings ScanWatch and Move ECG. We were told that there was no update planned.
Learn more about Withings Sleep
In 2021, the SpO2 function included on its hybrid ScanWatch was cleared by the FDA to detect the presence of respiratory disturbances; which could be considered a sign of sleep apnea.
The Withings Sleep was first launched in 2018. Back when Nokia owned Withings and called it the Nokia Sleep. It was later renamed Withings Sleep when the original owners bought the business.
The sleep analyzer is able to capture a series of sleep data; including sleep duration, sleep stages (including REM sleep). Also, it can also track heart rate, detect snoring and breathing disturbances.
When we tested it in 2022, we liked its ability to deliver masses of accurate data. But we also felt that it lacked useful and actionable information. We're not sure that will change with Sleep Diary which presents sleep data in even more detail. But it could come in handy for anyone who watches their bedtime fearing they have a sleep disorder.
AB SMART HEALTH REVIEW