Withings Scanwatch review – The French manufacturer is back with a new connected watch, the ScanWatch, which it presents as "the most advanced health watch in the world" and the first to detect sleep apnea.
This new watch can be seen as a culmination for the Withings brand. Since its takeover by its founder Eric Careel, the brand has refocused on connected health with the release of specialized accessories such as the Sleep Analyzer or the BPM Core, which we have reviewed in recent months, but also the Move ECG watch. .
We were able to spend ten days with the ScanWatch in order to test it in great detail.
EU: ScanWatch: The most advanced health wearable ever designed— now available at Withings.com!
Ends: December 31, 2020
FR: ScanWatch : La montre santé la plus avancée au monde— maintenant disponible chez Withings.com !
Ends: December 31, 2020
DE: ScanWatch : Das fortschrittlichste Gesundheits-Wearable auf dem Markt— jetzt verfügbar bei Withings.com!
Ends: December 31, 2020

Sleek design of the hybrid smartwatch
With its hybrid technology, the ScanWatch has a very elegant style very close to a classic analog watch taken from the Steel HR.
It is available in 2 sober colors: White or black. But, this model adds a rotating crown, which you can use to scroll through the menu on thePMOLED display integrated.
The main dial is analog with hands for the hours and minutes. But, it incorporates a second PMOLED digital dial which displays, as a percentage, the progress achieved against the daily activity target. It also allows you to see SpO2 measurements, irregular heartbeat and smartphone notifications, heart rate, steps, floors climbed, distance traveled, calories burned, training mode and access to settings.
The screen has been slightly enlarged compared to previous models, and has a higher pixel density, to make notifications and information easier to read. It is very bright, the animations are fluid.
Scanwatch features
38 mm model: diameter 38.4 mm (1.6 "), thickness 13.2mm (0.52 "), strap width 18mm (0.70 "), 58g (watch only)
42 mm model: diameter 42 mm (1.65 "), thickness 13.7mm (0.54 "), strap width 20mm (0.79 "), 83g (watch only)
Sapphire crystal
Dial in stainless steel 316 L.
Water resistant 5 ATM
Altimeter
Integrated GPS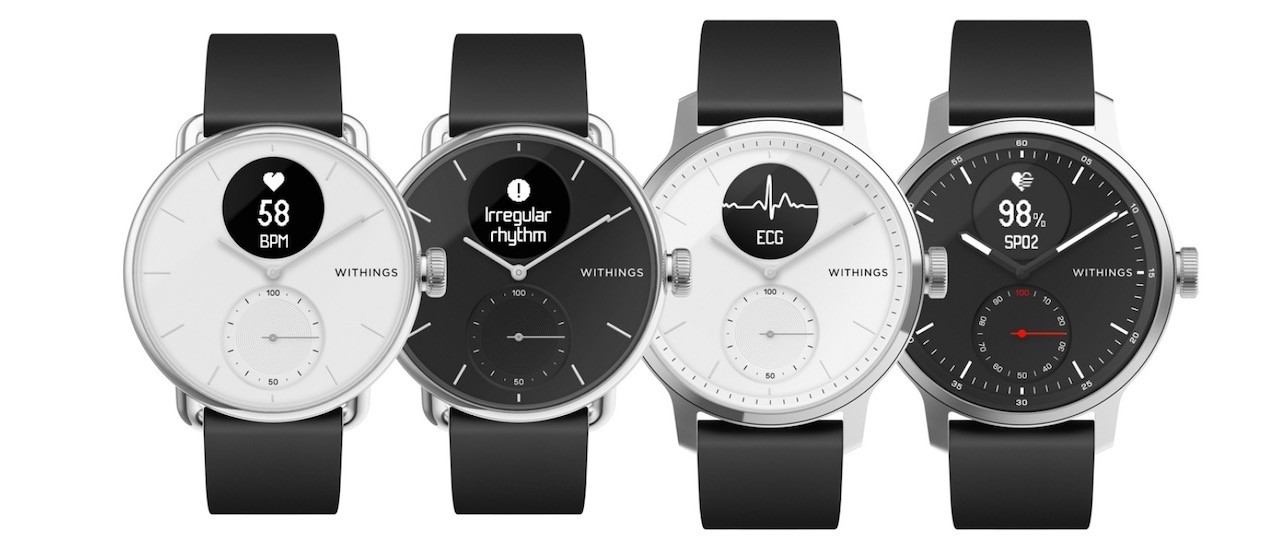 Health Mate app: your activity dashboard
The hybrid watch connects to Android or iOS phones using the'Health Mate companion app, and displays notifications as well as 14 facts about your health and fitness.

We had already, during our test of the Move ECG, been able to discover the Health Mate application. This companion software went to version 5.0 a few weeks ago, which allowed Withings to review the presentation of its home page.
The latest information is displayed in a news feed, which lists the most recent exercises, the last heart rate measurement or even last night's assessment. Everything is very clear and accessible at a glance to have a complete view of his physical condition and his goals to achieve.
Health Mate is also launching a new section called "Trends" which allows you to compare your past week with the previous one. The manufacturer wants to focus more on long-term progress rather than on the raw data collected every day.
This is in our opinion a great idea. Too bad only that this section is a little drowned in the mass and does not have a privileged place at the top of the screen. We currently tend to look for it by scrolling the home page for a long time and then quickly forget it.
Last addition of less importance: Health Insights. Behind this name hides a kind of conversation updated every day which allows to learn more about a specific medical subject such as sleep, or blood oxygenation.
Here again the idea is good but the format, falsely interactive, makes the whole rather gadget. We clearly prefer the many pages of explanations present everywhere in the software and which popularize all the information analyzed by the ScanWatch.
Exceptional autonomy for 24/7 use for 1 month
According to Withings, a single charge of the battery provides battery life of about 30 days. This is achieved through the choice of a hybrid watch. Indeed, the abandonment of a digital touch screen, considerably reduces consumption.
30 day battery life.
Full recharge in 2 hours.
About 1 hour to reach 80%.
In addition, the autonomy can go to 50 days in energy saving mode. That is, you only use the analog clock and step tracking.
An extremely complete health watch….
Withings has been reminding people for several months now that it wants to move away from the well-being sector and return to its true core business: health.Its latest hybrid watch, the Withings ScanWatch, competes with the Apple Watch in its chosen field of e health. She monitors the risk of atrial fibrillation and sleep apnea which are among the main causes of stroke.
The ScanWatch is clearly designed with this goal in mind and many features that allow you to learn more about your physical condition at any time of the day and night.
Cardiac frequency
The connected watch can first of all analyze your heart rate continuously with its sensor integrated under the case. Measurements are taken regularly throughout the day and continuously during sports exercises.
The ScanWatch checks your heart rate several times per hour and sends a notification when it is abnormal (too high or too low) or if irregularities are detected. Developed with cardiologists, the system has been clinically tested and has obtained CE Medical certification which authorizes the marketing of ScanWatch in Europe.
If the measurements are generally good, during our various sessions we may have encountered a few oddities such as a pulse displayed at 80 bpm while we were in full swing. Ditto in the other direction with 120 bpm analyzed while we were at rest, slumped in our sofa.
Electrocardiogram : recording of a 30-second D1 ECG traced on a millimeter grid
The watch can take ECG readings for detect atrial fibrillation (the most common form ofcardiac arrhythmiass).The ECG, inaugurated in the Move ECG released in 2019, is also in the game. To perform an electrocardiogram, simply select the option in the menu, keep your finger against the crown and place your thumb on the ring surrounding the watch face for 30 seconds. Be careful to follow the manufacturer's recommendations regarding placement. A hasty measurement will not be deemed reliable enough by the application.
SpO2 medical, or measuring your level of oxygen saturation in the blood
The ScanWatch is the manufacturer's first watch to be able to also analyze the oxygen content of the blood, or SpO2. The analysis procedure is the same as that of the electrocardiogram. The data is indicated by a measurement between 0 and 100%, knowing that the normal value is between 95 and 100%.
Withings again gives information on the causes of a too low level so that the user is aware of the problems that a bad level of oxygen in the blood can cause.
Thanks to this new sensor, Withings enriches its sleep monitoring with the detection of sleep apnea. This disease, which affects 1 in 4 adults, is difficult to diagnose quickly. To do this, the ScanWatch will perform a continuous overnight analysis of the oxygen content to identify respiratory interruptions. This measure has the consequence of significantly draining the battery (approximately 25% less autonomy according to our observations), it is therefore carried out randomly once every three months.
Sleep tracking is exactly the same as previous watches, with the display of a summary of the last night and an overall score assessing the regularity of bedtime, the time spent in the different phases of sleep and the total time spent asleep.
A smart alarm clock is also integrated and wakes you up via the vibration engine according to the quality of your sleep during a 30-minute window defined in the application. It works relatively well but the vibrations may not be strong enough for the heaviest sleepers.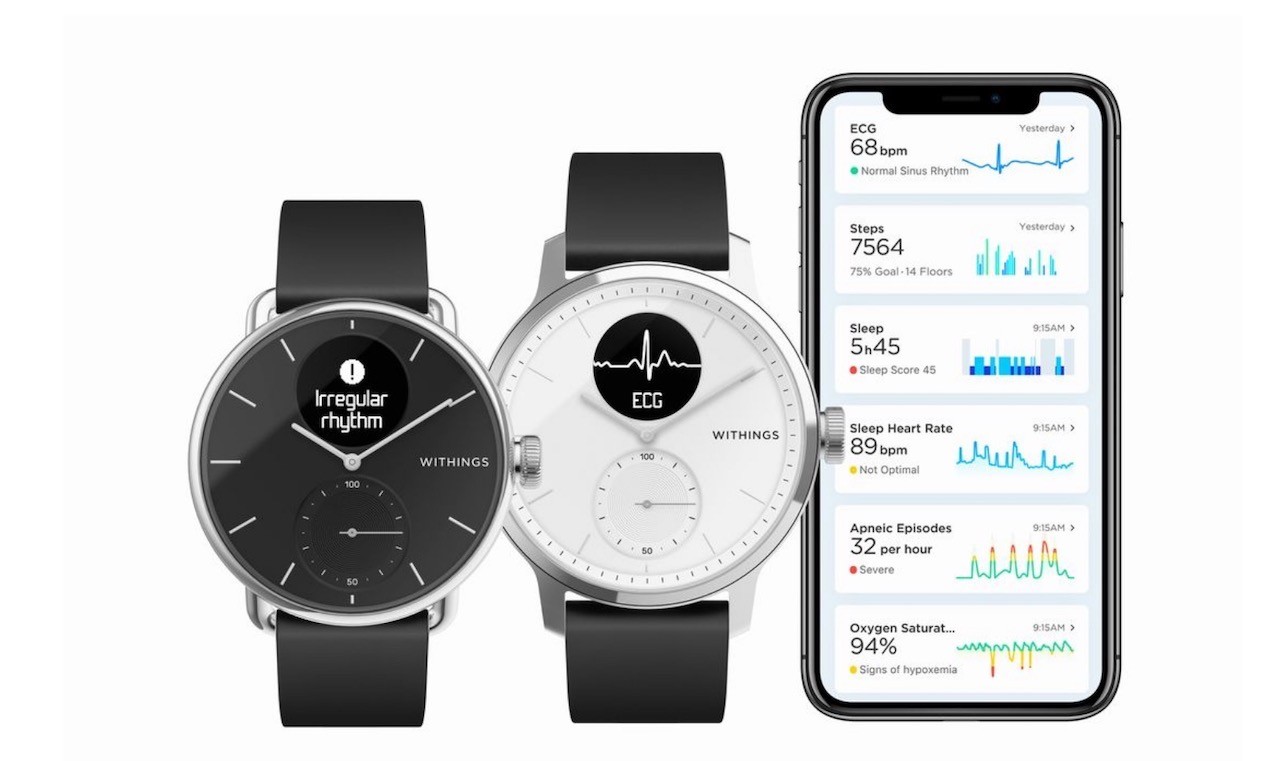 A smart health connected watch for your activity tracking and sport
The Scanwatch benefits from Withings' experience in smart health connected activity tracking watches. It allows you to follow your daily physical activity directly on the screen (or in the application):
Followed by more than 30 sports,
Automatic detection of swimming or running
Number of steps,
Distance traveled
Metabolic calories and total calorie expenditure
Cardiac frequency,
Cardio Fitness Index via VO2max (CE standard)

Elevation that counts meters and floors climbed
The crown allows the user to scroll through the various information, start recording an ECG or a SPO2 measurement, start a sports session or activate or deactivate an alarm.
The watch can obviously be used with other applications such as the excellent Strava.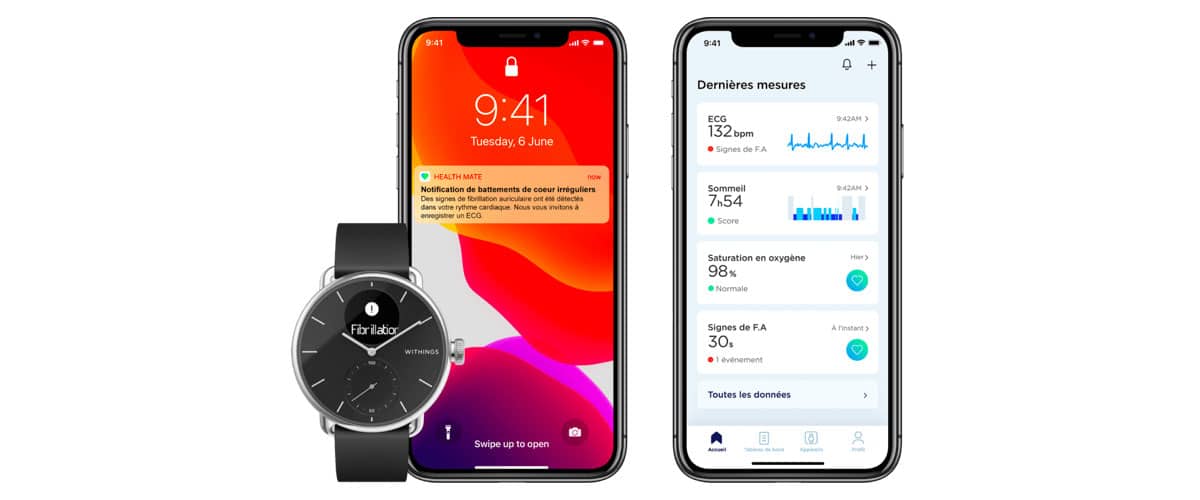 Connectivity
Data from sensors that automatically synchronize with theHealth Mate application available for smartphones under ios or Android.
You can also follow much nicer tables on the site dedicated to Withings activity and health monitoring.
Wireless
GPS smart health connected
Heart rate monitoring
Accelerometer
Compass electronic
Light sensor ambient
Sleep analysis
Pedometer
Price and availability Withings Scanwatch
The ScanWatch has impressive technology for monitoring our health, so it needs approvals FDA (USA) and THIS (Europe) for placing on the market. As expected, the Withings ScanWatch ist now available on the official Withings store .
The ScanWatch is sold € 279 in 38 mm and € 299 in 42 mm case. It also benefits from a range of silicone bands and other bracelets, including a leather model that raises the price. But, good news, the standard attachment system makes it possible to choose bracelets from other suppliers.
EU: ScanWatch: The most advanced health wearable ever designed— now available at Withings.com!
Ends: December 31, 2020
FR: ScanWatch : La montre santé la plus avancée au monde— maintenant disponible chez Withings.com !
Ends: December 31, 2020
DE: ScanWatch : Das fortschrittlichste Gesundheits-Wearable auf dem Markt— jetzt verfügbar bei Withings.com!
Ends: December 31, 2020
Conclusion
The new connected watch from Withings is quite simply the best ever designed by the French manufacturer. It retains a very elegant, timeless look and its workmanship is exemplary, even in the tiniest details.
The various analyzes of blood oxygenation, sleep or heart rate are as simple as they are precise. The Health Mate application remains a benchmark in data aggregation and Withings does a remarkable job of popularization that many of its competitors lack.
And yet the ScanWatch is not without flaws, mainly in terms of sports monitoring, very limited and if it is largely sufficient for all those who practice only one sport, the most seasoned will quickly be frustrated.
The real problem with this new connected watch remains its price set at € 299 for the 42 mm model that Withings lent us for this test. At this price, the ScanWatch competes with other smartwatches such as the Apple Watch, the Samsung Galaxy Watch and many models running Android Wear. While these devices are not as precise in their analysis of health data, they offer a larger screen, and touchscreen, 4G connectivity and multimedia features.
The ScanWatch is clearly not a bad smartwatch, on the contrary. If you plan to get it, you just need to be aware of the limitations of an analog watch before taking the plunge.
AB SMART HEALTH REVIEW
Excellent Product
Design -

9/10

Features -

9.3/10

Connectivity -

8.5/10

Autonomy -

9.6/10

Price/Value -

8.7/10
Summary
This watch is one of the most interesting discoveries of CES 2020 with its sleep apnea and atrial fibrillation detectors that help prevent the risk of stroke in addition to the usual activity monitoring functions.
30 days of autonomy,
sapphire crystal
measurement of 14 data in real time
She just received the "medical CE" marking following three clinical studies which validated
The detection of atrial fibrillation by recording an EKG or through a PPG optical sensor.
The measure of medical grade oxygen saturation in the blood.
In progress, the detection of Sleep Apnea.
The price remains very reasonable for a smart health connected watch of this level of quality, perfect for monitoring your daily health.