What is the best blood pressure monitor On-the-Go? Withings is a French brand of consumer electronics that has made a name for itself since its founding in 2008, in Issy-les-Moulineaux, and has offices in the United States and Hong Kong. It is well known for its smart health home devices, including wireless blood pressure monitors.Withings blood pressure monitors are considered among the most innovative on the market and have received FDA approval.
It's a relatively new brand, but one that is making a name for itself in the high end of blood pressure. The company has already received several innovation awards at CES in Las Vegas.
They are raising the digital blood pressure monitor to a new concept of gadget connected to your smartphone. In addition, they can even perform EKGs. If you are passionate about technology and want to stay connected, what better choice than a blood pressure monitor from this brand?
Comparison of the best blood pressure monitors from the brand Withings
The Withings BPM Core blood pressure monitor: the wireless blood pressure monitor of the future
We start our ranking with the brand's flagship model, the Withings BPM Core. We dare to say that it is the most advanced digital blood pressure monitor of the moment, even more than other more prestigious brands.
Not only does it measure systolic and diastolic blood pressure and heart rate, it goes far beyond a traditional, even high-end blood pressure monitor. This device incorporates a digital stethoscope which makes it possible to perform an ECG (integrated electrocardiogram).
This multiplies the possibilities of detecting pathologies as serious as atrial fibrillation and valvular heart disease. And all that… in the comfort of your home!
After 90 seconds of measurement and EKG, transmit the data via Bluetooth or Wi-Fi to your smartphone, with the free Withings Health Mate app (compatible with iOS and Android). Measurements can be stored in the cloud, where space is unlimited and where you can even share data with your doctor.
In short, the Withings BPM Core is a benchmark in technology. A beautiful and neat design, as well as a good quality of the assembly. Its reliability is guaranteed by the FDA and compliance with European Union directives relating to medical devices.
Pros :
Futuristic design.
A compact all-in-one.
Clinically approved according to FDA and European directives.
Quality of the assembly.
Universal size cuff, suitable for even the largest arms.
Indicates whether or not the pressure is within the values ​​recommended by the European Society of Hypertension (ESH) and the American Heart Association (AHA).
It incorporates a digital stethoscope.
Performs electrocardiograms.
Detects arrhythmias.
Detects pathologies such as atrial fibrillation and valvular heart disease.
Unlimited data storage in the cloud (free account).
Up to 8 people can use it with the free app.
Compatible with iOS devices (iPhone, iPad, iPod and Apple Watch) or Android
Synchronization with other Withings health monitoring devices
Rechargeable battery.
Great autonomy (up to 6 months on a single charge).
Cons:
Transport case not included.
If it is to be used by several people, the configuration of the mobile application is not very intuitive.
Withings BPM Connect: the smallest and easiest Wi-Fi blood pressure monitor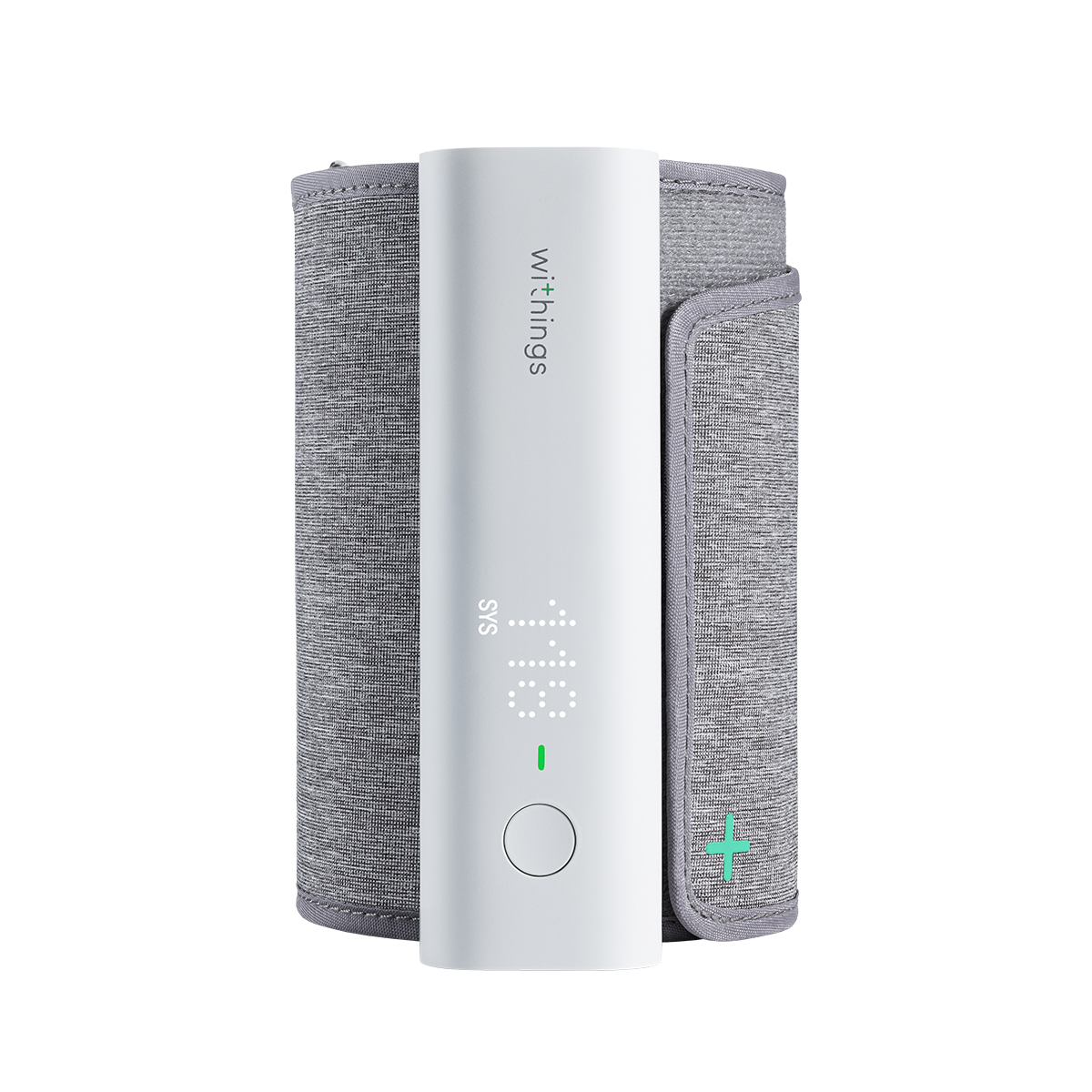 $99.95
in stock
3 new from $89.94
as of October 28, 2021 8:30 am
The Withings BPM Connect digital upper arm blood pressure monitor has very advanced features and is incredibly light and compact. With a futuristic and ergonomic design, it rolls up on itself and takes up no space.
Like the other Withings models, it is a built-in blood pressure monitor, which eliminates the need for the sleeve. Its accuracy is clinically guaranteed by the FDA (of the American government) and complies with the demanding European standards for sphygmomanometers.
Its formidable micro-USB rechargeable battery allows for no less than 6 months of use on a single charge. The monitor connects via Bluetooth to your mobile phone to view the data.
But it can also be used independently (without having your smartphone in front of you), because it synchronizes the measurements by Wi-Fi with the application.
It measures hypertension and hypotension and heart rate in one quick process. The results are visible directly on its futuristic screen (LEDS matrix) and, in parallel, are automatically sent to the Health Mate application on your mobile. All data is stored in the cloud without any restrictions and allows you to share the data with your doctor from the same application.
The Withings BPM Connect is located in the mid-range of the French brand's models, but is classified in the high-end of the market. It is cheaper than the brand's high-end model (the Withings BPM Core), with almost the same technical characteristics, except for the ECG.
It is a wireless blood pressure monitor ideal for lovers of smart gadgets and anyone who needs a small, light (only 250 grams) and comfortable device.
Pros:
Advanced design.
Approved in accordance with the FDA (Federal Drugs Administration of the United States government) and European regulations.
Quality of materials.
Universal size cuff
Warns with a simple color scale whether or not the pressure is within the values ​​recommended by the European Society of Hypertension (ESH) and the American Heart Association (AHA).
Warning against arrhythmias.
Unlimited data storage in the cloud (free account)
Store data for up to 8 people with the free app.
Synchronization with iOS devices (iPhone, iPad, iPod and Apple Watch) or Android
Connects to other Withings devices
Rechargeable batteries instead of batteries.
Long battery life (up to 6 months on a single charge)
Cons:
Without carrying case (rolls up on itself, but a more solid case would have been desirable)
There may be sync issues with the app if it is to be used by multiple iPhone users.
Withings BPM Nokia: the smart, connected and practical digital blood pressure monitor
Withings BPM – Wireless Blood Pressure Monitor: Medically Accurate, Fsa-Eligible, Easy to Use, Syncs with Free App for Apple & Android, New
as of October 28, 2021 8:30 am
Features
FSA-ELIGIBLE ITEM - If you have a flexible spending account with your employee health plan, no doctor's prescription is needed to purchase a Withings BPM
HIGH-ACCURACY – Ideal for monitoring blood pressure at home or on the go. Cuff fits arm circumference from 9 to 17 inches (22 to 42 cm)
EASY - App launches automatically and provides instant color-coded feedback
AUTOMATIC SYNCHRONIZATION - Data from every measurement appears in the Health Mate app via Bluetooth (iOS8+ and Android 5+)
Delivers color-coded results and advice based on internationally-recognized standards
The Withings BPM Nokia blood pressure monitor is the model with which the French technological brand has entered the market for intelligent blood pressure monitors.
It has been the subject of clinical studies and research by prestigious organizations and universities such as: the University of Pennsylvania, University College Dublin (UCD), the Center hospitalier universitaire de Toulouse (CHU) or the American Medical Group Association (AMGA).
It is approved by prestigious international organizations such as the FDA. He is licensed by physicians in the United States, Canada, the European Union, Australia and New Zealand.
This device is the brand's base model, but it is still a high-end digital sphygmomanometer. Like its big brothers, it has a compact design, with the monitor attached to the cuff and without the need for connection.
It is easy to adapt to the arm and its size is universal. By pressing a single integrated button, the measurement starts and is instantly and automatically transmitted to the Withings Health Mate app.
Like the other models of the brand, the Withings BPM Nokia is recommended for all those who need to control their hypertension but without giving up technology and connectivity.
Pros :
Clinically tested (FDA).
Compact design.
Design and quality of materials.
Unlimited storage
Free mobile app (Health Mate App)
Arrhythmia warning.
Guaranteed accuracy according to studies by prestigious medical centers and universities.
Armband suitable for all arms (sizes S, M, L and XL).
An easy interpretation of the results, because it codes them with a color scale and according to international standards.
Can be used by up to 8 users.
Compatible with Android or iOS.
Connectable with other Withings products.
Cons:
Transport case not included.
It doesn't have a screen, so you need to have your cellphone to see the results.
How to calibrate a Withings blood pressure monitor?
Withings wireless blood pressure monitors are devices that have undergone rigorous quality controls in the state-of-the-art factories where they are manufactured.
They are fully clinically certified by the FDA (United States Government Agency, Food and Drug Administration) and the most prestigious international organizations for the fight against hypertension such as the European Society of Hypertension (ESH).
The high quality of assembly and control ensures that these blood pressure monitors are properly calibrated and approved when you take them out of the box.
Conclusion: it is not necessary to calibrate a Withings sphygmomanometer, but for any sphygmomanometer, it is recommended to check it every 2 years (even if it is not used, there are parts and materials that 'wear). Your device can be fully checked by the after-sales service to confirm its accuracy and readjust it if necessary.
Calibrating a digital blood pressure monitor is a complex technical process, some parts of which may need to be replaced. The reset must be measured very precisely and must therefore be carried out by qualified and authorized technical personnel of the brand.
We absolutely do not recommend that you disassemble the blood pressure monitor yourself by following a video tutorial on YouTube. Calibration to be performed by Withings Technical Support
Which Withings blood pressure monitor to buy?
If you are passionate about technology and you are among those who do not leave their mobile phone for an instant: we recommend the Withings BPM.
If you like gadgets and a lightweight blood pressure monitor that is easy to take on the road or to the office, has a rechargeable battery and doesn't require you to look at your cell phone, we recommend the Withings BPM Connect.
If your health demands it or if you just want to keep complete control of your heart health and you can afford it: we recommend the Withings BPM Core, with the same features as the previous model, but with the inclusion of an electrocardiogram and the possibility of detecting serious pathologies.
Withings Body vs Withings Body Cardio: Which Withings scale is better?