Apple Fitness + was showcased at Apple's last event in September. An event in which a myriad of new products and services were unveiled.
Part of the Apple One family of smart health connected services but also accessible as such, Fitness + looks like a new way to stay in shape using Apple devices.
In this article, I invite you to discover all the details about this new service from the Apple brand.
What is Apple Fitness +?
Apple Fitness + is a new way to work out at your convenience. Whether in a gym, at health home or outside. This by using an Apple Watch to combine images on an iPhone, iPad, or Apple TV.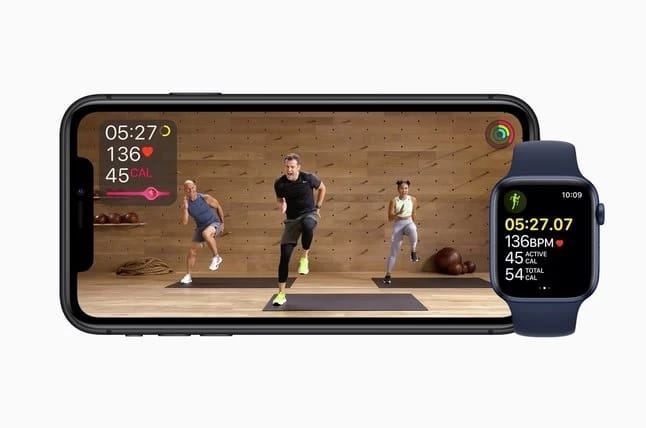 The image presents the concept succinctly. You can put your phone down, follow a workout and get personalized views in real time; both on your wrist and on the screen of your choice.
The service offers workouts that you can do yourself; as well as classes you can take with the trainers Apple is proud to present that all look like fitness gurus.
It also offers a wide range of activity types to make sure there is something for everyone. Including cycling, treadmill, rowing, HIIT, strength training, yoga, dancing, and Mindful Cooldown, among others.
Finally, if you have Apple Music, you will also find integration there, allowing you to easily navigate and save playlists suitable for each workout.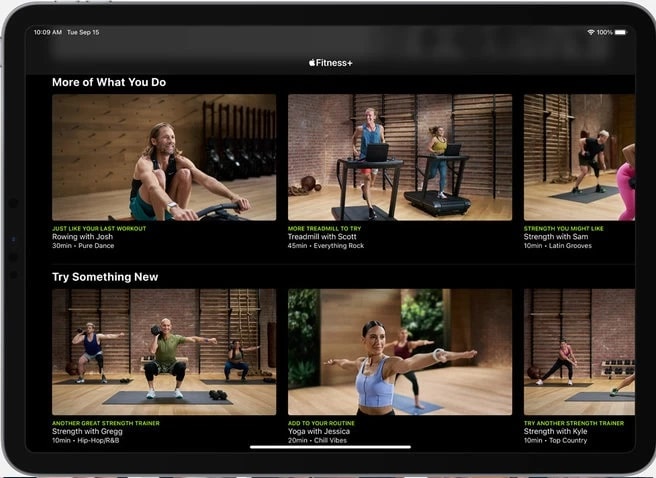 What do I need for Apple Fitness +?
Apple Fitness + was designed for Apple watches, but does not work with all combinations of watches and iPhones available on the market. The basic requirement is an Apple Watch Series 3 or higher; paired with an iPhone 6s or higher, or iPhone SE.
Regarding the iPad, the service will work with the iPad Pro, iPad (5th generation or higher), iPad mini 4 or higher, iPad Air 2 or iPad Air (3rd generation); while Apple TV 4K and Apple TV HD will both support it.
In terms of exercise equipment, you will need to bring your own, and unlike Peleton. You will therefore need to buy a bike or a lesson mat. When it comes to the exercise kit, the workouts that use the kit currently focus on the fact that you need dumbbells, a yoga mat, an exercise bike, a rower, etc. Although many courses do not require any additional material.
Weekly lessons and recommendations
Each lesson will last between 5 and 45 minutes. Apple has confirmed that around 20 new courses are added each week.
To give you access to classes, the new feature (found in the Fitness app) will recommend classes based on what you've already done. The Fitness + recommendations engine will suggest workouts based on the schedules. As well as the types and trainers you are used to using (referring to the last 60 days). Things you don't or can't do won't show up in recommendations. With the exception of the additional workouts offered for cross training, which are clearly identified as suggestions for balancing your routine.
And although the classes are taught by exclusive professional trainers, there will be advice for your level of fitness. For those who are really wondering how to get started, there will be an "absolute beginner" course so you can get started on it smoothly.
Fitness + and Apple Music
The app comes with a number of built-in playlists to match the on-screen exercise. But you can also add your own playlists to it. For the latter, however, you must have an Apple Music subscription.
How much does Apple Fitness + cost?
Autonomous
The best things in life are rarely free; and Fitness + is no exception. Apple offers premium service. Thus, its standard price is 9.99 euros per month. But you can purchase an annual subscription for $ 79.99.
Fortunately, all new Apple Watch purchases will now come with a three-month trial of Fitness +. This will allow you to Review the service with your new wearable. Interestingly, Best Buy already appears to be offering a six-month trial period.
When will Fitness + be available?
Finally, Fitness + does not have a firm launch date. But Apple told Bloomberg that the app will launch in the US "this quarter"; or by the end of the year, with workouts for yoga, cycling, running, strength training and other types of training.
AB SMART HEALTH REVIEW